Williams Automotive Collision Repair Center Auto Body Shop Charlotte, NC
We are conveniently located in Charlotte behind the Williams Subaru dealership at 5701 E. Independence Blvd. near Idlewild Rd. and we proudly serve the Greater Charlotte metro area including Charlotte, Matthews, Monroe, Mint Hill, Pineville, Rock Hill, Indian Trail, and more! We repair all makes and models at our Charlotte auto body shop and collision center! Complete customer satisfaction is our top priority and we will help you with the entire vehicle process including working with your automobile insurance company. Please call us at (704) 531-8888, email us at [email protected], or stop by our Charlotte collision center office to get your FREE estimate today!
Here at the Williams Automotive Collision Center, we know that being involved in an accident is a traumatic experience. You can be assured that we are here to help you with all aspects of your collision repair needs, including all dealings with your insurance company. The Williams Automotive Collision Center & Body Shop is a
direct repair facility
for several major insurance companies in North Carolina and South Carolina. We provide drive-in insurance claims services, and offer mobile claims services for fleet accounts. We can also help you obtain a rental car and provide free loaners when available. The Williams Automotive Collision Center & Body Shop in Charlotte, North Carolina promises to return your vehicle to you in ti
p
-top shape with as little hassle or inconvenience to you as possible. Our fully trained team offers years of on-the-job experience along with all the necessary finesse to complete every job to your absolute satisfaction.
Also, keep in mind…you have the right to choose where you get your car repaired – this is not the insurance company's decision. No law requires you to get more than one estimate. Call us or email us for help with your insurance claim.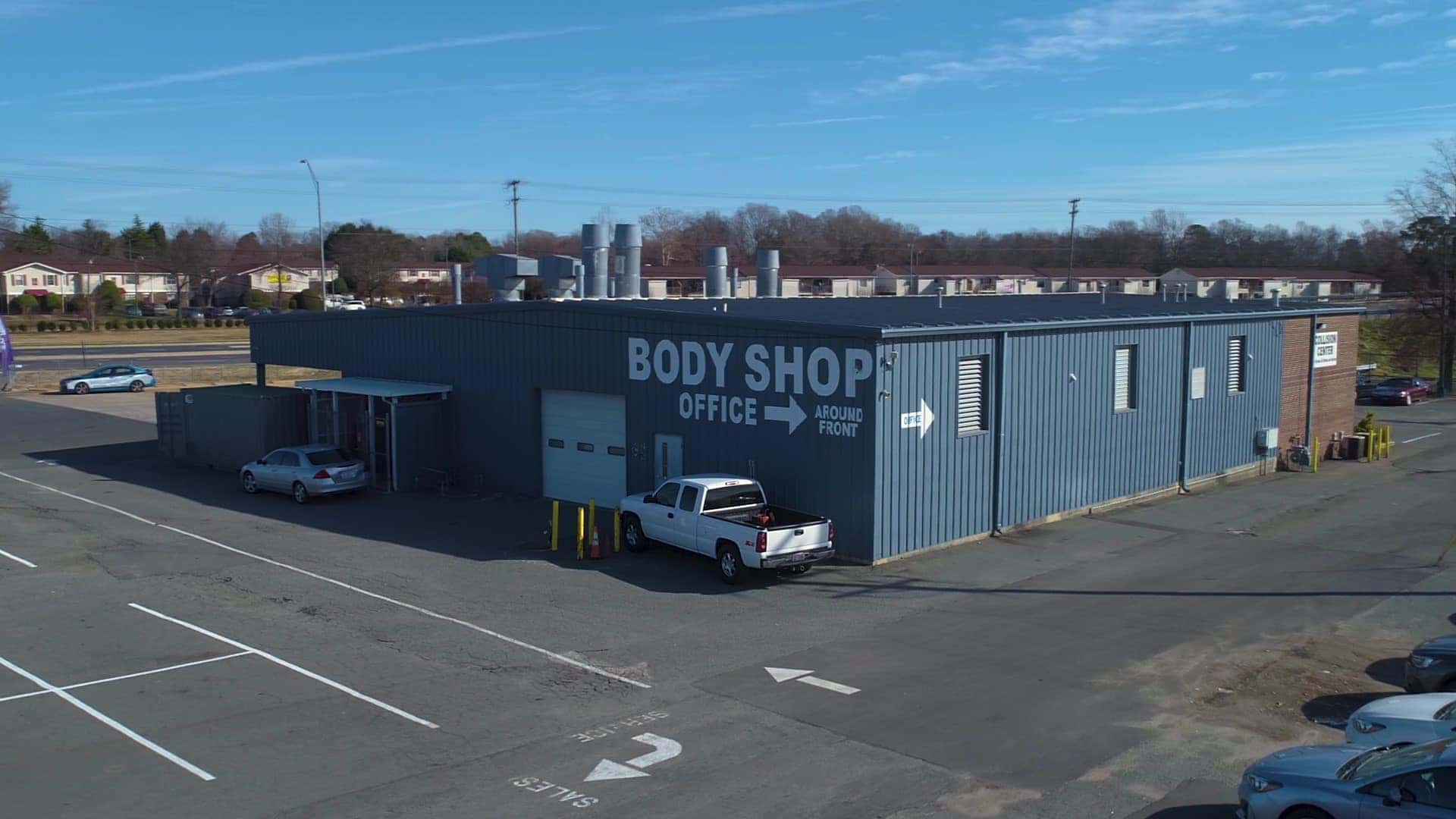 The Williams Automotive Collision Center & Body Shop Offers:
Lifetime guarantee on all workmanship including paint
Lifetime guarantee on all frame / unibody repairs
State-of-the-art collision repair facility
Laser frame and computerized measuring tools for unibody repairs
100% "I-CAR" Certified Technicians & "ASE" Certified Technicians
Free consultations and computerized estimates gladly given
All insurance company estimates are honored and we are a direct repair facility for most of the major insurance carriers
Dent, scratch, and paint removal
Windshield and auto glass repair with Glass Wizard and SUNsational glass tinting service
DuPont computerized color-matching auto body painting
Deductible discounts
Free loaner vehicles upon request when available
Written warranty on our work – 100% customer satisfaction guaranteed!

Available Services:
Auto-Collision Repair
Auto-Body Repair
Auto-Body Painting
Dent Removal
Scratch Removal
Paint Removal
Free Consultations & Estimates Gladly Given
All insurance Company estimates are honored
Written Warranty on Our Work
DuPont Computerized Color-Matching
Chief Computerized Measuring for Unibody Repairs
Waterborne Refinishing:

Today most OEM manufacturers are spraying new vehicles using waterborne refinishing products. Here at the Williams Collision Center we stay true to our promise of providing high quality repairs. This is why we spray utilizing the same waterborne technology. Waterborne refinishing products help us insure a more accurate color match, faster cycle time, and of course better for our employees and the environment.
What To Do When An Automobile Accident Occurs:
It may be hard to think clearly after a car accident, so it is important to know before you get into an accident what to do first and what questions may need answered.
The following checklist ✅ will help you know what to do after a car accident. It is best to review it now and then print it out and keep a copy with you in your car.
DETERMINE THE EXTENT OF DAMAGE AND INJURIES:

Try to stay calm. Panic can make others panic, and make the situation worse. There needs to be a calm person to determine the extent of damage and to determine if there are any injuries that need immediate medical attention.

FILE A CAR ACCIDENT REPORT WITH THE POLICE:

Even in a minor accident, it is important to make sure there is a legal accident report. Do not leave the scene until the police file a full report.

DISCUSS THE CAR ACCIDENT ONLY WITH THE POLICE:

With everyone all shaken up it can be hard not to talk about what just happened, but that can also lead to you not thinking clearly and accurately about what happened. It is important to limit your discussion of the accident and not to admit any fault or liability. You should talk about the accident with the police and your insurance agent only.

GET THE FACTS:

This is the part most people know to do, but often forget to do after the accident for one reason or another. It is important to get the names, addresses, and phone numbers of everyone involved in the accident. A description of the car and license plate number can also be helpful, but make sure you also get their insurance company and the vehicle identification number of their car. Don't just assume the license plate number will do because most insurance companies only record the type of car and the vehicle identification number, not the license plate number.

CALL YOUR INSURANCE AGENT:

Call your agent or insurance company's 800-number immediately, even at the scene with the police if possible. Sometimes the police officer can give your insurance company more accurate information rather than information you may not be recording properly because you are upset by the accident. This can save you a lot of time later waiting for your claim to be processed.

LAST BUT NOT LEAST:

Call us at (704) 531-8888 or email us for your FREE estimate!
Come in to our collision center to see what our high-tech Charlotte auto body repair resources can do for you. Highly-trained collision center techs will make sure the job is done right and your body repair will last!